I grew up in Southern California, so I'm familiar with the missions established by Father Junípero Serra and other missionaries along what is known as El Camino Real (The Royal Road), named to honor the Spanish Monarchy. "El Camino Real" is a road sign seen quite often near Highway 101, across the north county of San Diego!
There are several other historic missions located in and around San Diego and I've visited quite a few of them, but today I'm focusing on the 21 main missions built along the famous route that are a part of California's heritage.
Before the missionaries began their own trek northward, Gaspar de Portola first blazed a trail in search of Monterey Bay. His journey opened the country to colonization by providing the only road between the few existing outposts built along the trail. California became a state in 1850, and the trail served as a stagecoach route back then. Can you believe it? California has only been a state for 170 years. The United States is really very young. I visited houses in Europe that were three times older than that!
California Mission #1: San Diego de Alcalá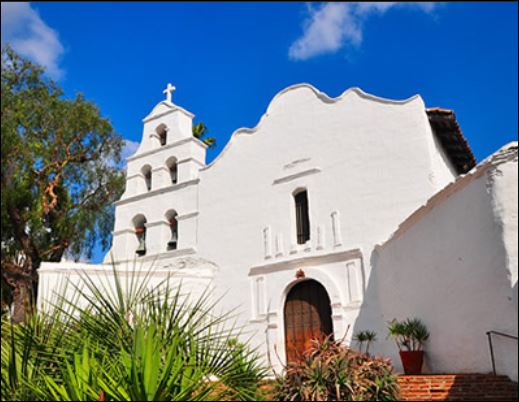 The First mission in the California portion of the trail, which actually extends southward from Mexico, began in 1769 when a large cross planted in the sand and a bell hung from a tree designated the site of the first California mission. The site would be moved five years later, close to the mouth of the San Diego River, where it is located today. San Diego was first named San Miguel by Spanish explorer Cabrillo. Sixty years later, another Spanish explorer Sebastián Vizcaíno, renamed the area San Diego after Saint Didacus of Alcalá.
California Mission #2: San Carlos Borromeo de Carmelo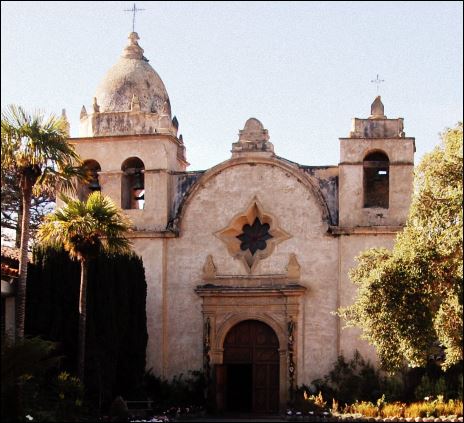 The Second mission founded in 1770 by Father Junípero Serra is located in Carmel, California. This mission was his favorite. He used this site as his headquarters, and he chose to be buried there.
I used to live in Monterey and worked at a wonderful bookstore in Carmel. That bookstore was my most favorite job ever, and I loved the area. I made good friends there and still have many happy memories.
California Mission #3: San Antonio de Padua
San Antonio de Padua is located not far from Paso Robles, along the coast trail, which is now Highway 101, and near the middle of the state between San Diego and San Francisco. The Third mission was dedicated in 1771 and named for a saint known as the "miracle worker."
Some of the 21 original missions that followed El Camino Real fell into disrepair, neglected and forgotten over the years, but most have been restored to what they must have looked like when built originally.
California Mission #4: San Gabriel Arcángel
The San Gabriel Arcángel Mission has been designated the oldest building in Los Angeles County. Also dedicated in 1771, this mission housed the first hospital in California, overseen by the Franciscan order of missionaries. Originally located in what is now the city of Montebello, the mission was moved to its present location in San Gabriel after floods destroyed the buildings.
California Mission #5: San Luis Obispo de Tolosa
The Fifth mission is San Luis Obispo de Tolosa. Dedicated in 1772, it is the first mission to protect the building with a tiled roof, due to attacks by Chumash Indians who set fire to the original thatch with flaming arrows.
California Mission #6: San Francisco de Asís
San Francisco de Asís is number Six. Dedicated in 1776 — that's a special year for our nation! This mission was first built of adobe mud bricks, a surprisingly stable material. The home where I grew up was made of adobe, so they hold a special place in my heart and childhood memories. My sister and I helped our dad build many walls!
California Mission #7: San Juan Capistrano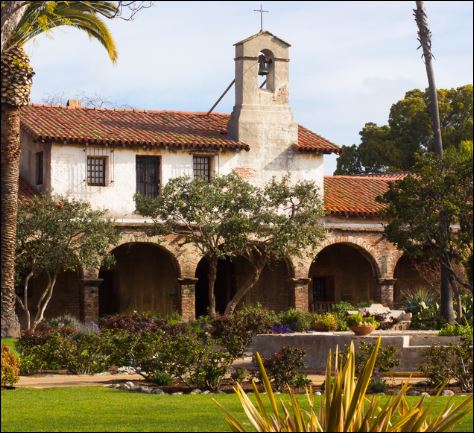 Probably the best-known is the Seventh mission, San Juan Capistrano. It is this mission the swallows return to every year. You can almost set your clock by their arrival date, and many people gather to celebrate their return "home" from Argentina.
The church once boasted seven domes and a bell tower, but it was severely damaged in an earthquake in 1812 — the date of another war in our U.S. history. The mission is currently being preserved and restored by archaeologists studying the site. The Serra Chapel of 1777 is the oldest building still in use in California.
California Mission #8: Santa Clara de Asís
Number Eight, is Santa Clara de Asís. The chapel was founded and built of logs in 1777. About an hour south of San Francisco, only a few original walls remain, as well as the bell tower, which holds the original bells received from Spain.
California Mission #9: San Buenaventura
Closer to Los Angeles, the Ninth mission, San Buenaventura, was originally planned as the third of Father Serra's 21 missions. Fire destroyed the first building, and other problems caused further delays. Completed in 1809, this was the last mission founded during Father Serra's lifetime.
California Mission #10: Santa Barbara
Mission Santa Barbara, number Ten, was dedicated in 1786 by Franciscan Friar Fermín Lasuén, and has served continuously since that time. It is the only mission with two bell towers, and the façade was patterned after a pre-Christian Roman temple. The design is traced to a book on architecture originally published in 27 B.C. I find that absolutely fascinating!
California Mission #11: La Purisima
La Purisima Mission, located north of Santa Barbara in Lompoc and near the Danish-themed city of Solvang, is number Eleven. Dedicated in 1787, the buildings have been remodeled to reflect the original design and was rebuilt using original methods.
California Mission #12: Santa Cruz
Number Twelve, Mission la Exaltación de la Santa Cruz, was dedicated in 1791, but abandoned because it was too close to the influence of a community of citizens with bad reputations, supposedly thieves and ex-convicts.
California Mission #13: Nuestra Señora de la Soledad
Thirteen, Mission Nuestra Señora de la Soledad. Each mission was set approximately a day's walk from each other. For over 230 years, citizens of the Soledad community continue to say prayers in the tradition of the missionaries who settled in this region.
California Mission #14: San José
Fourteenth in our countdown of the 21 missions along El Camino Real, Mission San José is located in the city of Fremont. The mission was dedicated in 1797, but it was destroyed by an earthquake in 1868. A lot of effort has gone into restoring the mission buildings, and restoration has been completed in several phases.
California Mission #15: San Juan Bautista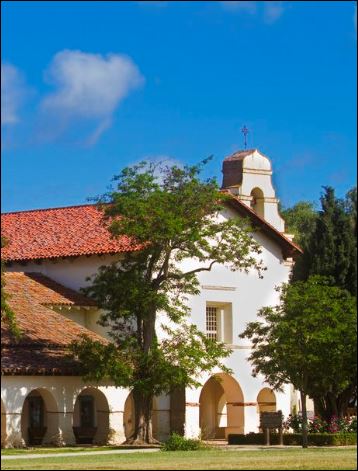 Mission San Juan Bautista is another mission I visited when I lived in Monterey. Of course, it sits right on top of the San Andreas fault line, although much of the original building is still intact and has been restored. It is the largest California mission church, and the only with three aisles.
I attended a festival with a group of friends and we all had a great time! The picturesque town of San Juan Bautista contains an original town square, and the old mission is located there with other buildings that date to the 1800s. My favorite inside story is the Cat Door cut into a side door of the chapel for cats to come in and chase away the mice!
California Mission #16: San Miguel Arcángel
San Miguel Arcángel was founded in 1797. The Sixteenth mission is also located in beautiful San Luis Obispo County near the town of Paso Robles. As with the other missions, the goal was to establish missions roughly one day apart. Also as what happened to many other missions, earthquakes and time have taken their toll. The interior of the church still contains hand-painted murals created by Indian artists.
California Mission #17: San Fernando Rey de España
Seventeen, San Fernando Rey de España. This church, also dedicated in 1797, was one of the less lucky missions. Efforts to restore it were made in the early 1970s.
California Mission #18: San Luis Rey de Francia
Mission San Luis Rey de Francia, number Eighteen, is located just north of San Diego in Oceanside, and it is a mission that is also in my backyard. As Santa Barbara's mission was considered the "Queen of Missions," Mission San Luis Rey is considered "King." Named for King Louis IX of France, and dedicated in 1798, it is about 30 miles north of San Diego. The structure is an interesting mix of Spanish, Moorish, and Mexican architecture.
California Mission #19: Santa Inés
Nineteen, Mission Santa Inés, is located in the Danish-themed town of Solvang. Dedicated in 1804, it was named in honor of the 13-year-old, fourth-century Christian martyr Saint Agnes, because she refused to sacrifice to pagan gods. This mission was another one destroyed by the 1812 earthquake, but it has been rebuilt, and today features in many festivals and events.
California Mission #20: San Rafael Arcángel
Number Twenty, San Rafael Arcángel. Dedicated in 1817, 200 hundred years ago, little is known about this mission except that the missionaries there cared for Indians who had taken ill.
California Mission #21: San Francisco Solano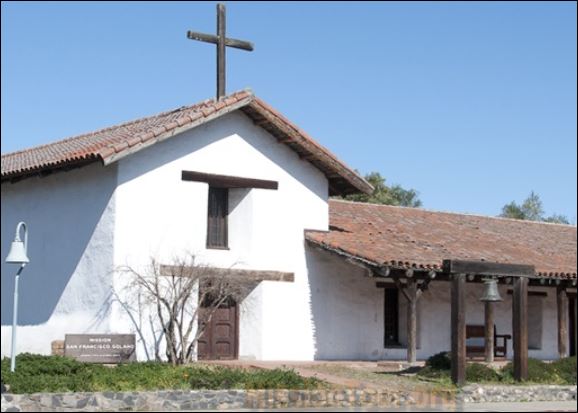 The Twenty-first and final mission on the famous trail, El Camino Real, was founded in 1823. The mission is located in a historic park in the town of Sonoma, north of San Francisco, in beautiful wine country. This mission was abandoned and fell into ruins after the Spanish missionaries were ousted when Mexico gained its independence from Spain. And that is why a planned mission in the nearby town of Santa Rosa was never established. The small mission of San Francisco Solano was the last of an era. 
So, there you have it. A small guided tour along the coast of California, and the string of Spanish missions dedicated to bringing civilization and their way of thinking to the tribes of Indians they contacted and attempted to convert.
I hope you enjoyed the journey! I'll be in touch after the New Year with another post of something interesting that caught my attention. Until then, Happy Holidays!